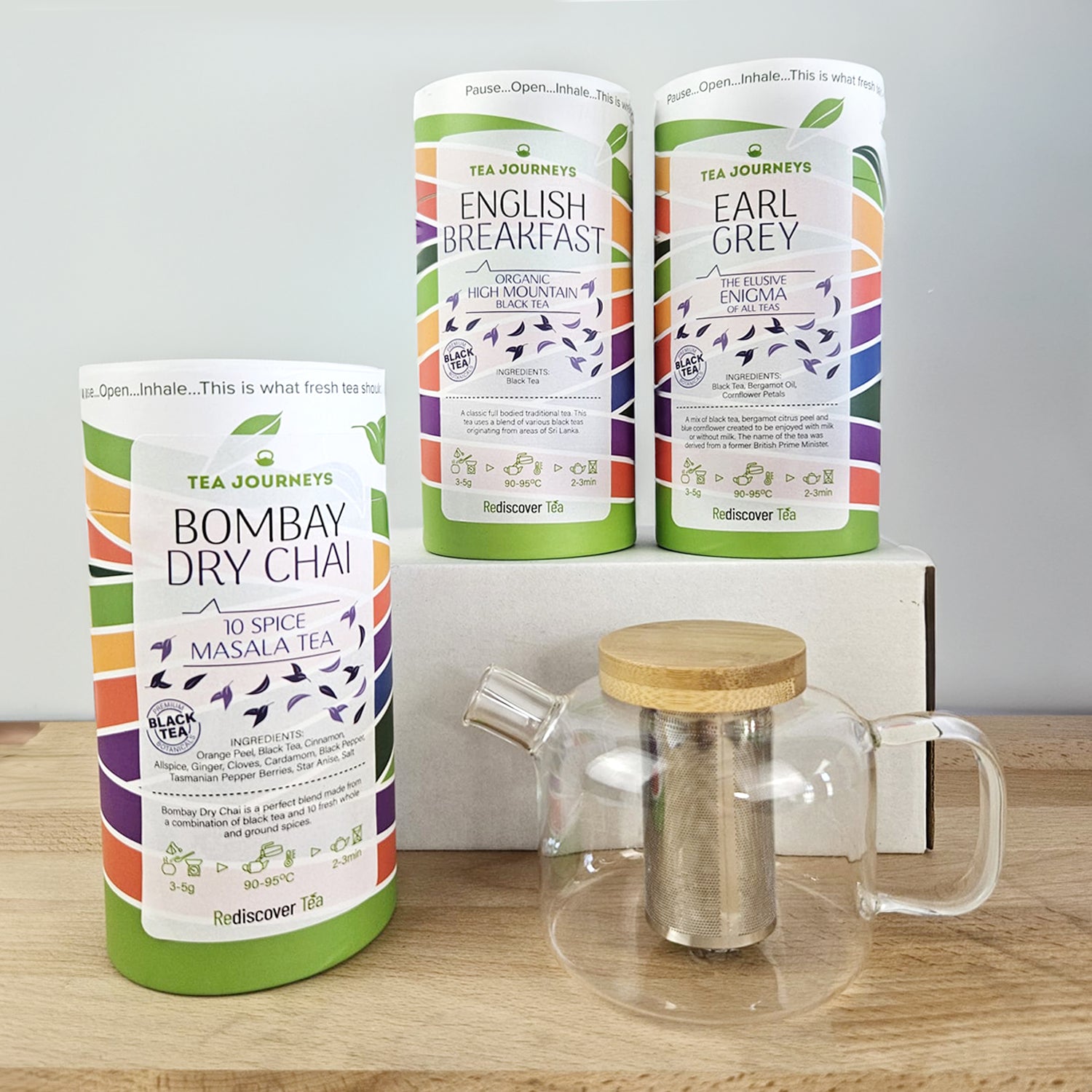 Tea Time Trifecta
Free RUSSIAN CARAVAN sample with $50+ purchase.
Experience the epitome of elegance with our "Elegance Unveiled Tea Set," featuring a uniquely designed glass teapot with a bamboo lid. This teapot stands as a testament to both form and function, offering a spill-free pour and a clear view of the brewing process through its crystal-clear glass body.
Tea Selections:
[Set A] The Classic Tea Trio: English Breakfast, Earl Grey, Bombay Dry Chai Immerse yourself in the timeless charm of our trio, blending the richness of English Breakfast, the sophistication of Earl Grey, and the spiced warmth of Bombay Dry Chai.

[Set B] Journey to Wellness: Healthy Habits, Immunitea, Siesta Me Silly Embark on a wellness journey with exclusive blends crafted for balance—Healthy Habits, the soothing Siesta Me Silly, and the immune-boosting Immunitea.

[Set C] Harmony of Health: Healthy Habits, Lemongrass & Ginger, Mountain Green Achieve harmony in well-being with the healthful blend of Healthy Habits, the invigorating Lemongrass & Ginger, and the refreshing Mountain Green.
The specially designed teapot, complemented by a fine strainer, ensures a seamless brewing experience. Elevate your tea moments with the "Tea Time Trifecta" set, where sophistication meets clarity in every delightful sip.
Flavour Profile
Health Benefit

Whilst there is some scientific research indicating that tea may offer various health benefits, please note that all the information provided on this website is for informational purposes only. It should not be regarded as a replacement for medical advice, and it is not intended to be utilized as the primary method for treating any medical conditions or health concerns.