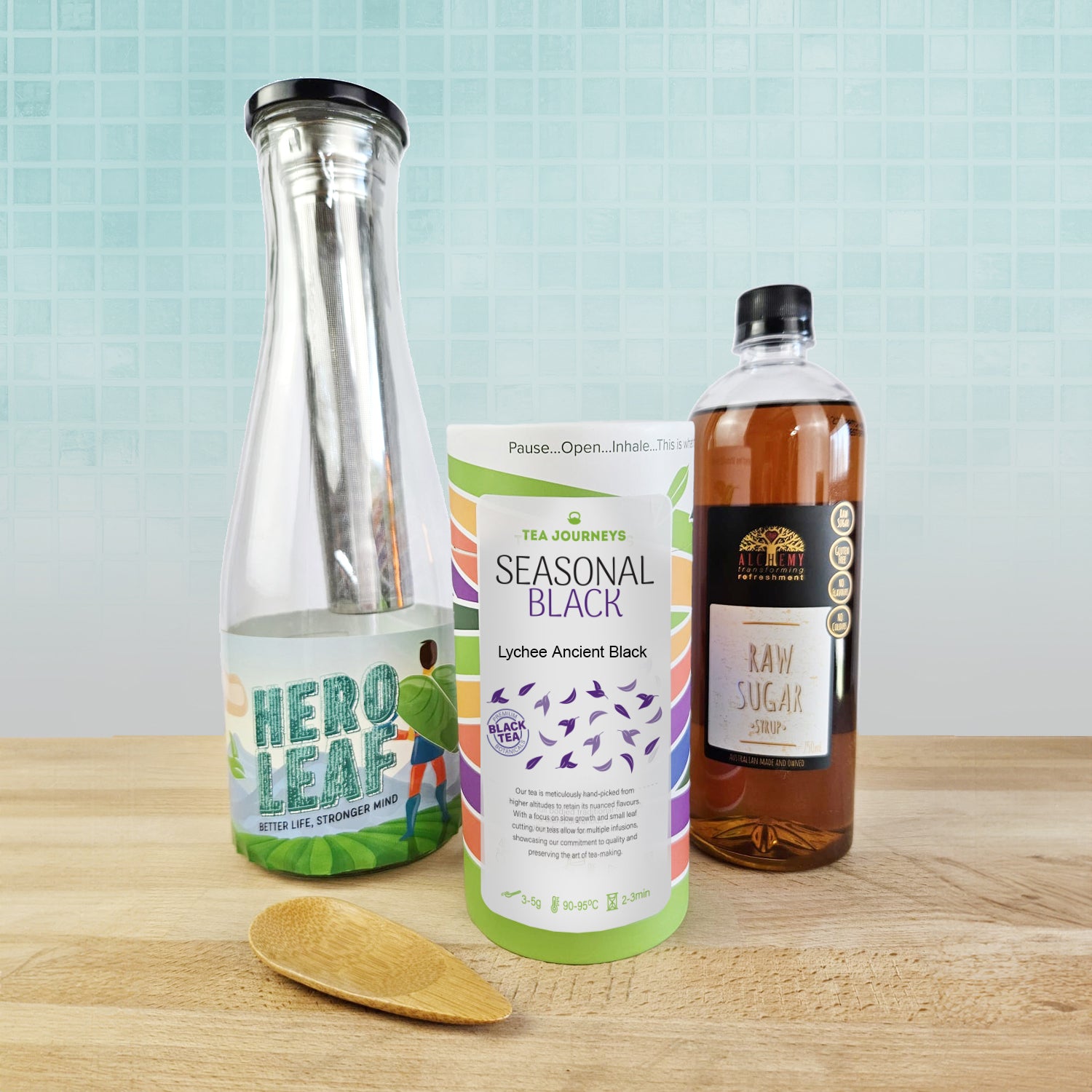 Iced Tea Brewer's Dream Kit
Free RUSSIAN CARAVAN sample with $50+ purchase.
A game-changer for tea enthusiasts gearing up for summer. Our specially designed iced tea brewer bottle is set to rejuvenate and refresh on those scorching hot days. Simple to use, this bottle is the epitome of ease and convenience. Just add your favourite tea and water, seal the lid, and let it brew for 8-12 hours. No need to fret about loose leaves—our custom stainless-steel strainer with a removable lid ensures a smooth pour every time.

Key Features:
Effortless brewing: Add tea and water, seal, and let it brew for 8-12 hours.
Custom stainless-steel strainer: The removable lid prevents loose leaves from entering your brewed tea.
Easy to clean: The removable strainer makes cleaning a breeze. Just empty, rinse, and get ready for your next favourite tea.
Durable design: Sturdy glass and a tight-fitting lid ensure longevity, lasting you through the entire summer and beyond.
Kit Contents:
1 Iced Tea Brewer Bottle
1 Loose Leaf Tea Tube
Raw Sugar
Bamboo Scoop
Loose Leaf Tea Choices:
English Breakfast: Embrace the bold and robust flavors of our classic English Breakfast blend. The perfect choice to kickstart your day or enjoy a revitalizing afternoon pick-me-up.

Healthy Habits: Indulge in a blend crafted for well-being. Healthy Habits brings together a selection of wholesome ingredients, creating a tea that's as good for your taste buds as it is for your health.

Lemon Zinger: Experience a burst of citrusy freshness with our Lemon Zinger blend. The zesty notes of lemon combined with other invigorating ingredients make this tea a delightful and uplifting choice.

Sunset Blaze: Let the warmth of Sunset Blaze envelop your senses. This harmonious blend offers a perfect balance of flavors, creating a soothing and flavorful tea that captures the essence of a beautiful sunset.
These loose leaf tea choices, paired with the convenience of the Iced Tea Brewer Bottle, guarantee a refreshing and personalised iced tea experience. Whether you crave the classic richness of English Breakfast, the wellness benefits of Healthy Habits, the zingy freshness of Lemon Zinger, or the soothing warmth of Sunset Blaze, your perfect iced tea moment is just a brew away.
Flavour Profile
Health Benefit

Whilst there is some scientific research indicating that tea may offer various health benefits, please note that all the information provided on this website is for informational purposes only. It should not be regarded as a replacement for medical advice, and it is not intended to be utilized as the primary method for treating any medical conditions or health concerns.