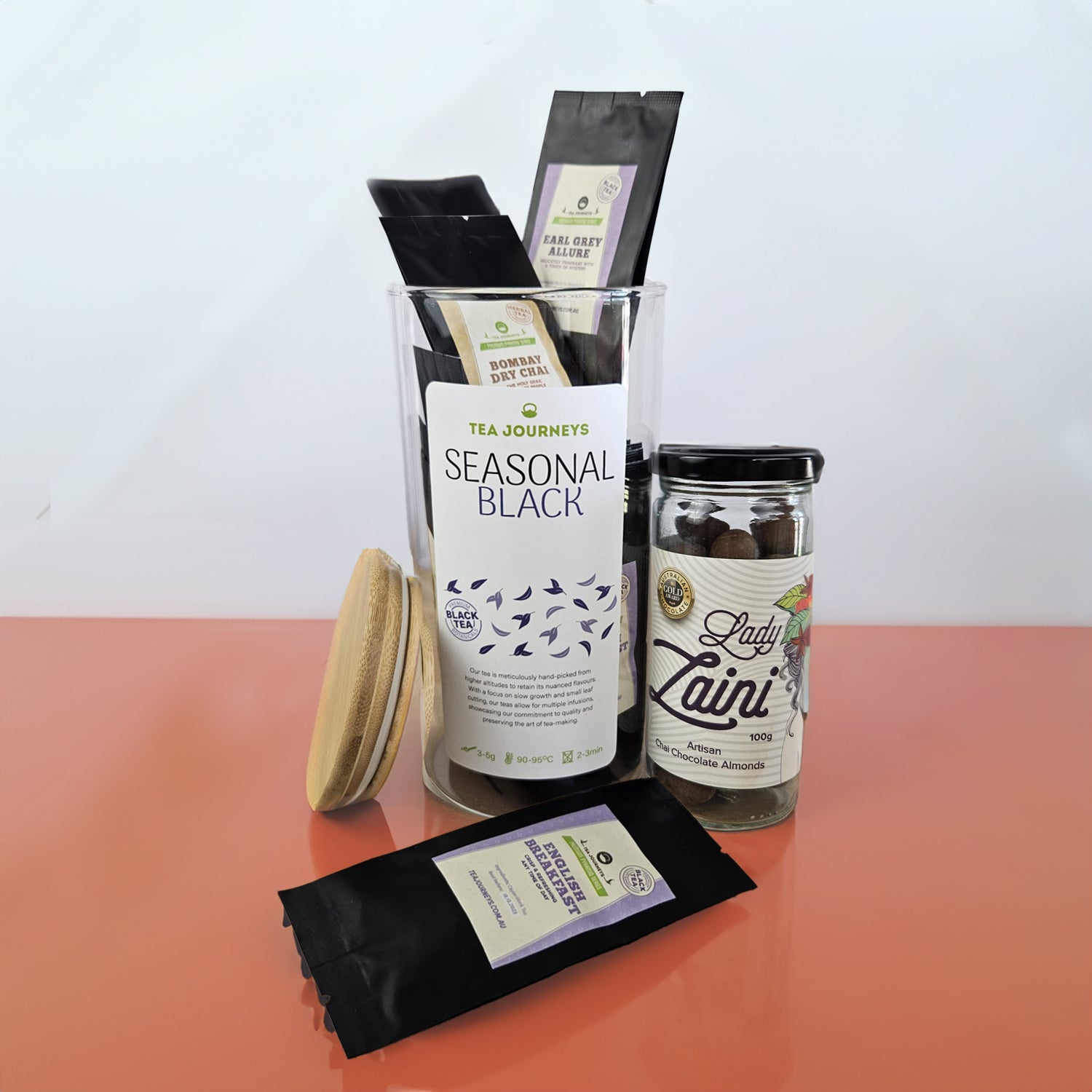 Seasonal 24x Tea Bag Set with Chai Chocolate Almonds
Free SIESTA ME SILLY sample with $50+ purchase.
A curated collection of individually wrapped pyramid tea bags. With 24 pieces neatly packed in a convenient large glass canister, each bag unfolds into a symphony of flavours. Elevate your tea experience with the delightful addition of Chai Chocolate Almond.
Key Features:
Individually Wrapped Pyramid Tea Bags: Enjoy the convenience and freshness of individually wrapped tea bags.
Large Canister: A generous glass canister that holds all your tea making ingredients, making it the perfect addition to your seasonal tea ritual.
Chai Chocolate Almond Delight: Elevate your tea moments with the luxurious and indulgent taste of Chai Chocolate Almond.
Flavour Choices:
[Set A] Black Tea Bliss:
English Breakfast: A classic blend for a robust and invigorating start to your day.
Earl Grey: A timeless favourite, combining black tea with the citrusy essence of bergamot.
Bombay Dry Chai: Experience the warm, spiced richness of Bombay Dry Chai.
[Set B] Herbal Tea Serenity:
Mountain Green: Embrace the earthy tones and subtle sweetness of Mountain Green tea.
Lemon Zinger: Zest up your cup with the vibrant and refreshing notes of Lemon Zinger.
Sweet Mint Splash: Indulge in the cool and invigorating flavour of Sweet Mint Splash.
Transform your tea moments into a seasonal celebration. Unwrap the delightful surprises of our Seasonal Tea Bag Set and let each sip transport you to a world of flavour and warmth. Whether you choose the bold richness of black teas or the refreshing allure of herbals, this set promises a symphony of seasonal delights.
Flavour Profile
Health Benefit

Whilst there is some scientific research indicating that tea may offer various health benefits, please note that all the information provided on this website is for informational purposes only. It should not be regarded as a replacement for medical advice, and it is not intended to be utilized as the primary method for treating any medical conditions or health concerns.