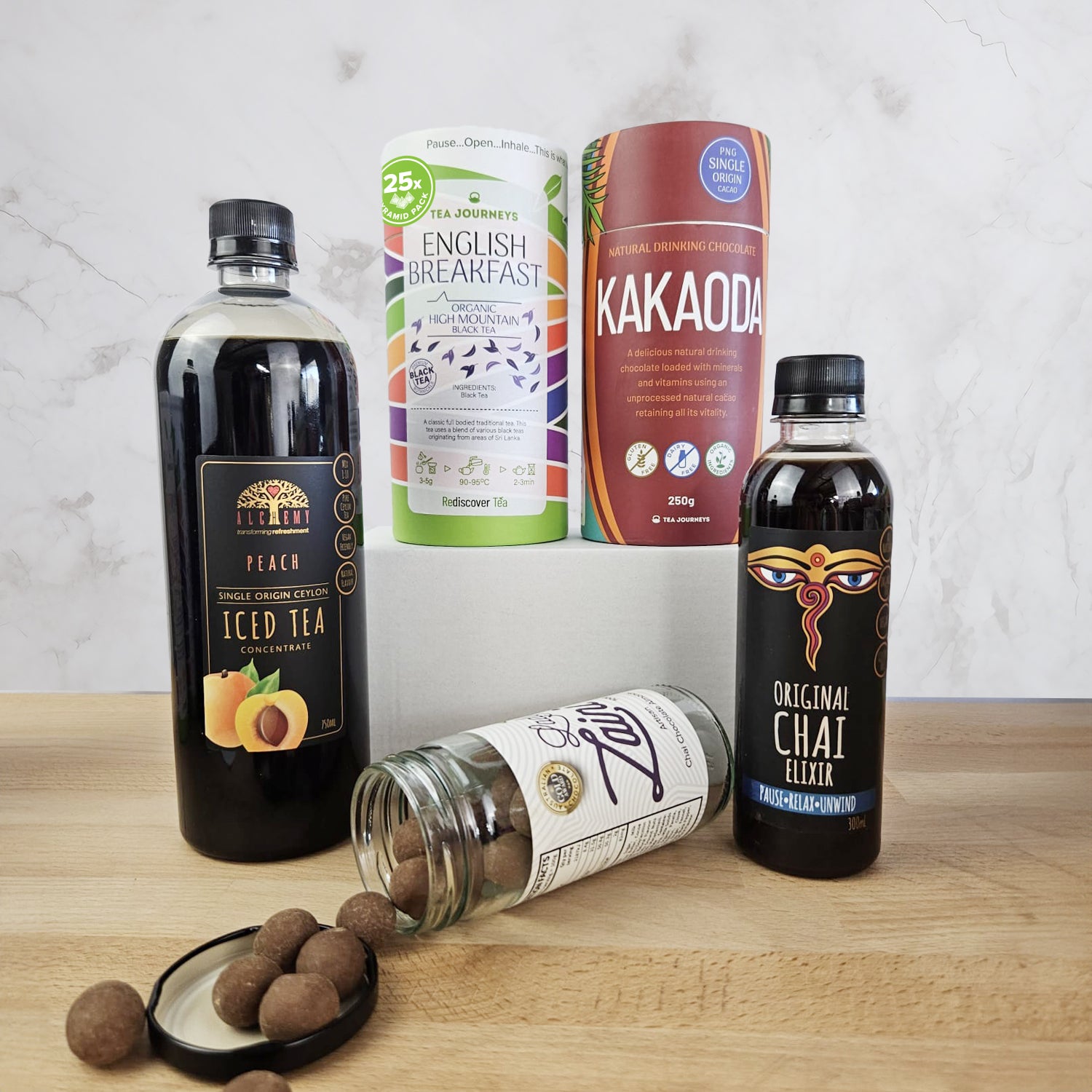 Covering All Bases Pack
Free RUSSIAN CARAVAN sample with $50+ purchase.
A carefully curated collection designed to tantalize your taste buds with tropical delights. This exquisite set includes a tea bag tube (25 pcs), an all-natural drinking powder, Alchemy Iced Tea, Alchemy Concentrate, and the indulgent Chai Chocolate Almond.
Covering All Bases packs:
[Set A] All Day Bliss: English Breakfast, Kakaoda, Peach Iced Tea Concentrate, Original Chai Concentrate Wake up to the robust flavours of English Breakfast, cool down with the refreshing Peach Iced Tea concentrate, experience spice of life with the Original Chai Concentrate, or indulge in the rich vegan friendly Kakaoda,.

[Set B] Citrus Zest Fusion: Lemongrass & Ginger, Urban Chai, Lemon Iced Tea Concentrate, Energy Chai Concentrate Embrace the vibrancy of Lemongrass & Ginger, savour the urban sophistication of Urban Chai, quench your thirst with the Lemon Iced Tea Concentrate, and revitalize with the Energy Chai Concentrate.

[Set C] Minty Fresh Revival: Peppermint, Matcha, Cucumber & Mint Iced Tea Concentrate, Turmeric Concentrate Refresh your senses with the pure essence of Peppermint, indulge in the goodness of Matcha, experience the crispness of Cucumber & Mint Iced Tea Concentrate, and embrace the wellness benefits of Turmeric Concentrate.
Cover all your bases with the perfect combo of drink types and flavours. Whether you feel like something hot, something ice cold, something made on bubbles or something moreish to snack on. These packs are a total crowd pleaser, and promise the best taste experience each time. Elevate your tea experience to a whole new level of indulgence.
Flavour Profile
Health Benefit

Whilst there is some scientific research indicating that tea may offer various health benefits, please note that all the information provided on this website is for informational purposes only. It should not be regarded as a replacement for medical advice, and it is not intended to be utilized as the primary method for treating any medical conditions or health concerns.