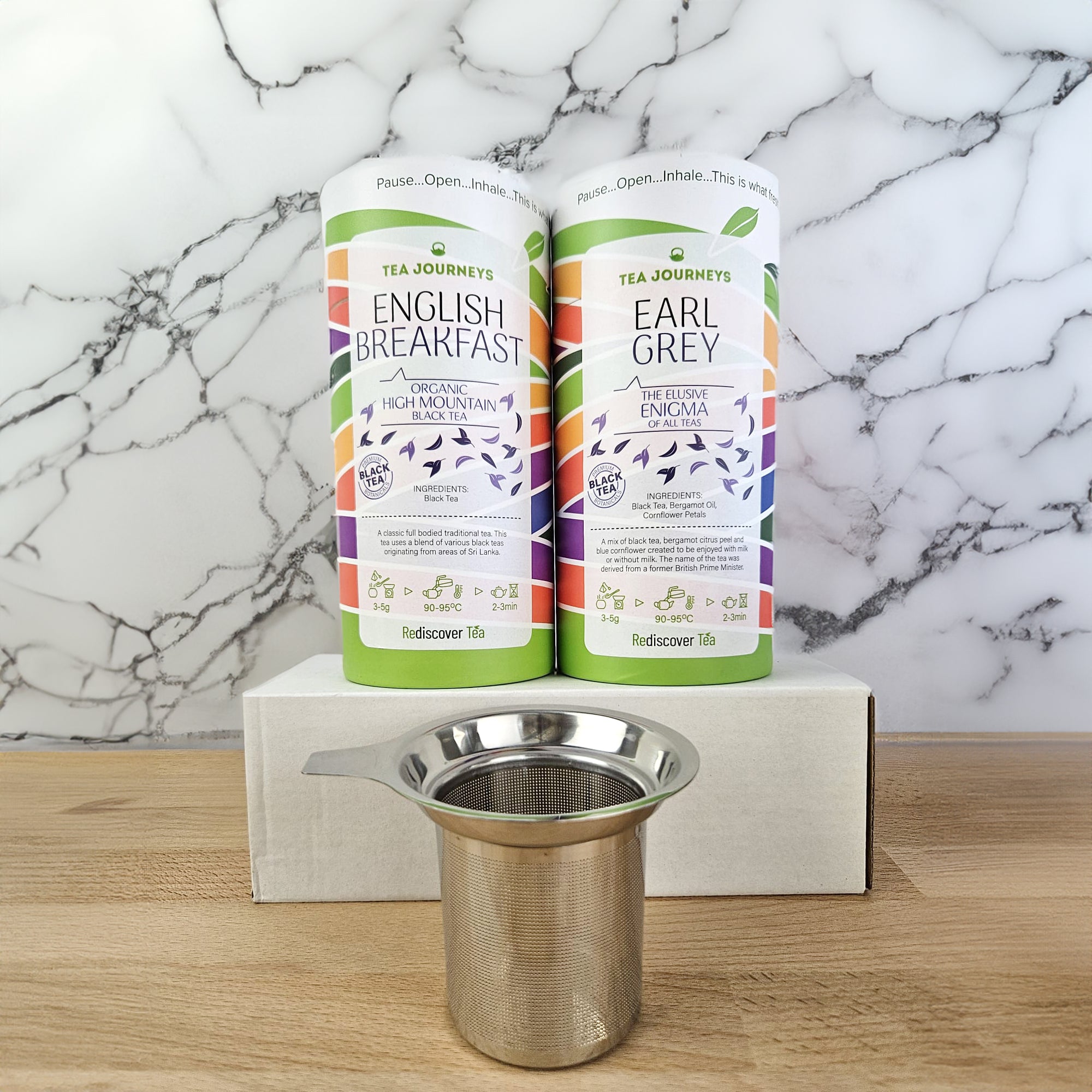 Timeless Tea Traditions
Free RUSSIAN CARAVAN sample with $50+ purchase.
A delightful ensemble curated for tea enthusiasts who appreciate the art of savouring fine blends. Each set includes two meticulously crafted loose-leaf tea tubes and a specially designed tea super strainer, ensuring an exquisite brewing experience.
1. [Set A] Classic Elegance: English Breakfast + Earl Grey Experience the timeless allure of English Breakfast paired with the sophistication of Earl Grey. A classic blend for those who relish tradition.
2. [Set B] Spiced Charm: Bombay Dry Chai + Earl Grey Embark on an exotic journey with the spiced charm of Bombay Dry Chai and the fragrant sophistication of Earl Grey. A fusion of tradition and exotic flair.
3. [Set C] Tranquil Retreat: Mountain Green + Lemongrass Ginger Find tranquillity in the refreshing blend of Mountain Green tea and the invigorating notes of Lemongrass Ginger. A calming retreat in every sip.
4. [Set D] Minty Freshness: Mountain Green + Pure Peppermint Rejuvenate with the crisp fusion of Mountain Green tea and the pure essence of Peppermint. A minty freshness for a revitalising experience.
Indulge in our Timeless Tea Traditions gift sets — a perfect balance of flavours crafted for those who seek a moment of delight in every cup.
Flavour Profile
Health Benefit

Whilst there is some scientific research indicating that tea may offer various health benefits, please note that all the information provided on this website is for informational purposes only. It should not be regarded as a replacement for medical advice, and it is not intended to be utilized as the primary method for treating any medical conditions or health concerns.