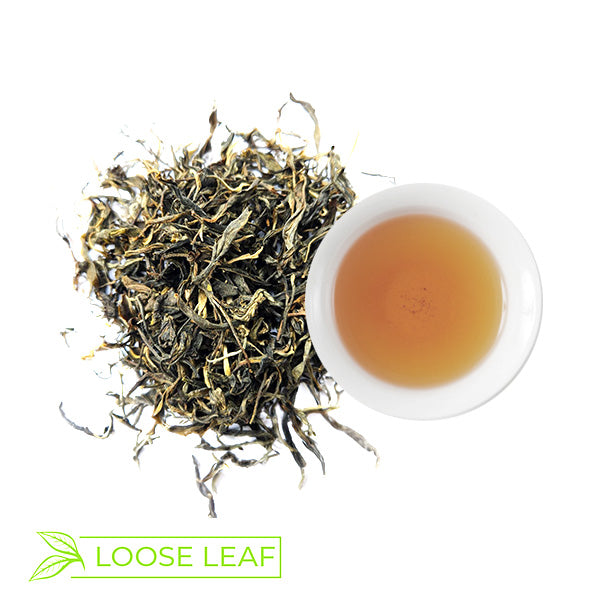 Bulang Loose | Chinese Raw Pu'erh (Pu'er)
Save

Liquid error (snippets/product-badge line 92): Computation results in '-Infinity'

%
Free SIESTA ME SILLY sample with $50+ purchase.
Experience the captivating world of Pu'erh tea, a treasured delight from Yunnan province.
Raw Pu'erh captures the raw essence of tea leaves, resulting in a tea that evolves and gains complexity over time. Known for its mellowness, bitterness, and sweetness, Raw Pu'erh offers a captivating and transformative tea-drinking experience.
Nestled in the scenic southern region of MengHai District,  BuLangShan is home to ancient tea gardens that add to its allure. This charming locale is in close proximity to the renowned LaoBanZhang, hailed as the King of Puerh Tea. The teas from BuLangShan captivate the senses with their pronounced flavours and satisfying full-bodied taste. They leave a delightful, lingering aftertaste, often accompanied by a heightened salivary response. The tea we offer has been thoughtfully crafted and stored in a dedicated tea warehouse since 1998, allowing it to mature gracefully, resulting in a smoother and more refined infusion. Despite its maturation, it maintains its distinct and robust flavour profile, offering you a truly enjoyable tea-drinking experience. 
Flavour Profile

Smoky
Slightly Sweet
Woody
Earthy
Health Benefit

Heart Health
Gut Health
Energize and Focus

Whilst there is some scientific research indicating that tea may offer various health benefits, please note that all the information provided on this website is for informational purposes only. It should not be regarded as a replacement for medical advice, and it is not intended to be utilized as the primary method for treating any medical conditions or health concerns.