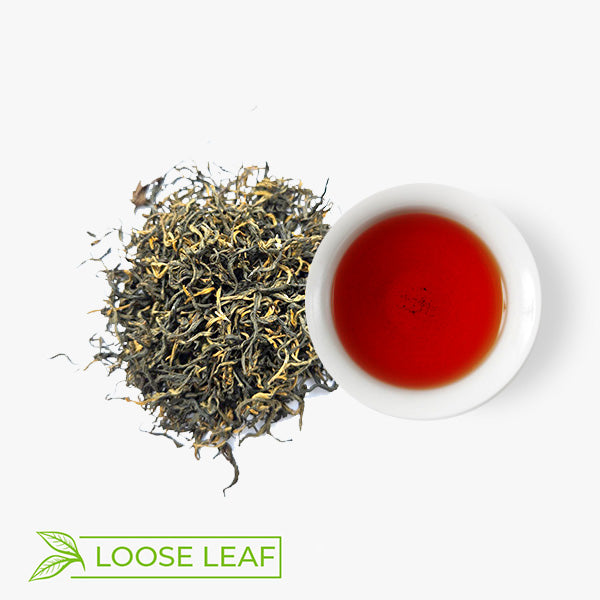 Dianhong Black Vintage '22
Save

Liquid error (snippets/product-badge line 92): Computation results in '-Infinity'

%
Free SIESTA ME SILLY sample with $50+ purchase.
Step into the enchanting world of Dian Hong tea with Tea Journeys' latest offering. Sourced from the picturesque village of Xi Meng in Yunnan, China, this tea is a true treasure nurtured by tea-loving families. The tea gardens, nestled at an altitude of 1300m, produce leaves of exceptional quality.
What sets Dian Hong apart is its meticulous processing. The leaves undergo a unique maceration and rolling technique, carefully coaxing out the finest flavours. This delicate dance of rolling and oxidizing results in a complex transition of polyphenols, imbuing the outer leaf with a captivating taste profile that sets it apart from your typical black teas.
When brewed, Dian Hong unveils a delightful surprise. Its flavour profile boasts a harmonious balance of robustness and subtlety. The tea exudes a distinct malty richness, with hints of fruit and citrus dancing on the palate. To unlock its full potential, we recommend brewing at a slightly lower temperature of around 91ºC, allowing the tea to unfurl its layers of flavour gracefully.
Immerse yourself in the allure of Dian Hong tea, where tradition meets innovation. Indulge in every sip as the flavours transport you to the misty tea gardens of Xi Meng. Tea Journeys invites you on a captivating journey with this extraordinary tea that is truly a testament to the artistry and dedication of its growers. Elevate your tea experience with Dian Hong from Tea Journeys.
Ingredients
Best Brew

TEA: 3g/1tsp, WATER: 91°C, TIME: 2'20"
*per single serve teapot/340ml H2O
Origin
Tasting notes

Malty, hints of fruit and citrus. Sweet, fruity and flowery flavour with a long-lasting sweet after-taste
Flavour Profile

Aromatic
Slightly Sweet
Earthy
Bold
Floral
Fruity
Health Benefit

Gut Health
Immunity
Energize and Focus

Whilst there is some scientific research indicating that tea may offer various health benefits, please note that all the information provided on this website is for informational purposes only. It should not be regarded as a replacement for medical advice, and it is not intended to be utilized as the primary method for treating any medical conditions or health concerns.