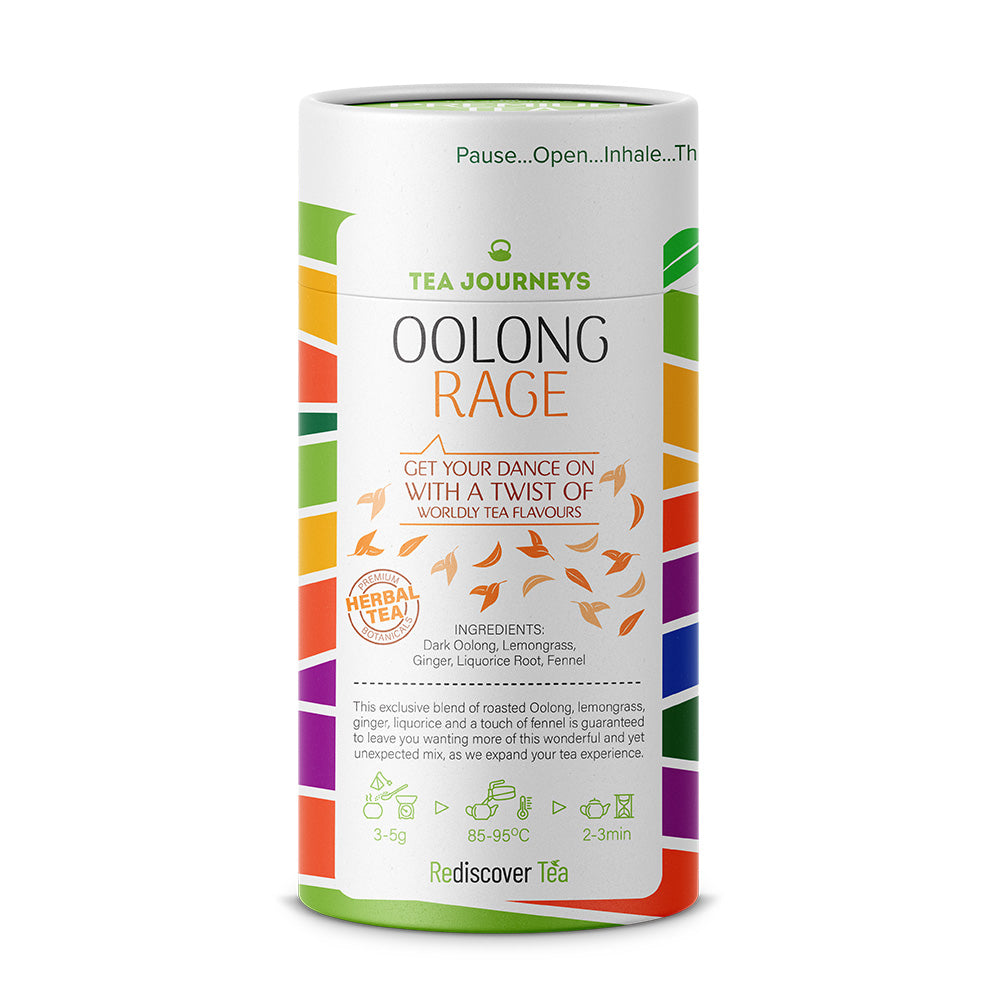 Oolong Rage
Save

Liquid error (snippets/product-badge line 92): Computation results in '-Infinity'

%
Free RUSSIAN CARAVAN sample with $50+ purchase.
Get your dance on with a twist of worldly tea flavours
This exclusive blend of roasted Oolong, lemongrass, ginger, liquorice and a touch of fennel is guaranteed to leave you wanting more of this wonderful yet unexpected mix, as we expand your tea experience.
Can't decide between green or black? Go with Oolong! Oolong (also known as Wu Long) tea has been around for almost 4 centuries, and it's well known for its subtle sweetness and aromatic fragrance, as well as the great health benefits that recommend for at least one cup a day. Our completely organic Oolong Rage pushes the boundaries of the tea experience through a perfect combination of finely roasted Oolong with lemongrass, ginger, liquorice and a touch of fennel. This unique Tea Journeys collaboration of complementary ingredients creates just the right amount of sweetness and herbaceous, which underlines the Oolong and guarantees an amazing taste experience.
Tea Journeys difference
| Our Herbal | Industry Standard |
| --- | --- |
| Always Fresh shipped from origin direct | Often stale, herbs are NOT direct from origin but rather through large global buyers that remain in enormous distribution centres |
| Organic whereby constituting superior quality | Not all organic means better! Some organic produced by big business remains inferior in quality |
| Blends are designed to be similar in botanic size ensuring effective transfer of flavour with water infusion | Often mismatched leaf/botanic sizes as not sourced and blended for quality |
| No pre-dehydrated fruits are used we only use all-natural dried fruits | Often dehydrated fruits that are used in blends are flavourless and re-hydrated with flavour mists to replicate the original flavour |
Ingredients

Dark Oolong, Lemongrass, Ginger, Liquorice Root, Fennel
Best Brew
Flavour Profile

Citrus
Earthy
Roasted Notes
Spicy
Sweet
Health Benefit

Energize and Focus
Gut Health

Whilst there is some scientific research indicating that tea may offer various health benefits, please note that all the information provided on this website is for informational purposes only. It should not be regarded as a replacement for medical advice, and it is not intended to be utilized as the primary method for treating any medical conditions or health concerns.