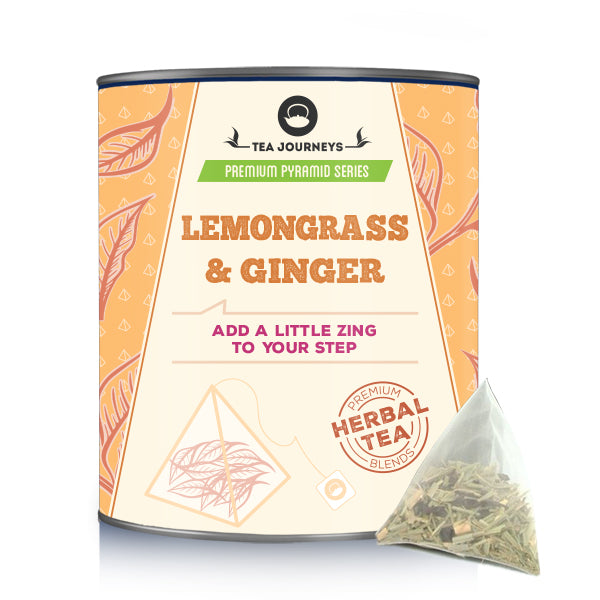 Lemongrass & Ginger - Pyramid Tin
Free RUSSIAN CARAVAN sample with $50+ purchase.
Lemongrass and Ginger herbal infusion.
This product contains 15 pyramids.
One of the most popular herbals blends in the Tea Journeys herbals collection. It's a great blend of herbs to enjoy both hot and also as cold infusions. For best results with cold infusion simply place a teabag or a small amount of loose leaf tea into a tea strainer and leave overnight in a sealed glass jug to cold infuse using ambient water temperature.
Both ginger and lemongrass are anti-inflammatory herbs. An article published in the "Journal of Medicinal Food" in 2005 notes that ginger shares the same properties as nonsteroidal anti-inflammatory pharmaceutical drugs but has been found to be more effective and have fewer side effects. A study published in "Microcirculation" in 2010 showed that a compound called citral found in lemongrass inhibits the formation of acid that causes inflammation. What was interesting about this study was that the results found both in short-term (2 weeks) and long-term (6 months) the results showed that inflammation in both the bowel and blood vessels was reduced, relieving pressure on bodily function.
Ingredients
Best Brew
Flavour Profile

Spicy
Tart
Sweet
Citrus
Refreshing
Health Benefit

Heart Health
Gut Health
Energize and Focus

Whilst there is some scientific research indicating that tea may offer various health benefits, please note that all the information provided on this website is for informational purposes only. It should not be regarded as a replacement for medical advice, and it is not intended to be utilized as the primary method for treating any medical conditions or health concerns.